High-Speed Doors
We also install and service high-speed doors for a variety of service industries. These doors are ideal for freezers, clean/sterile areas, or other applications that require minimal exposure to outside air. The high speed allows for minimal time your products are exposed to outside temperatures or elements that not intended for them.
For example, freezers filled with perishable food items, such as meat or cheese, need to be refrigerated constantly. However, if you are trying to move shipments of products around, you will need to open and close the main garage door to load your transportation vehicles. With high-speed electrical garage doors, you can access your freezer rooms easily and close them quickly. As you probably know how important the health of your products are, as well as how expensive it is to run a functional freezer room, any way to conserve energy and support efficiency is appreciated.
Contact us to find out if a high-speed electric garage door is a great solution for you and your business.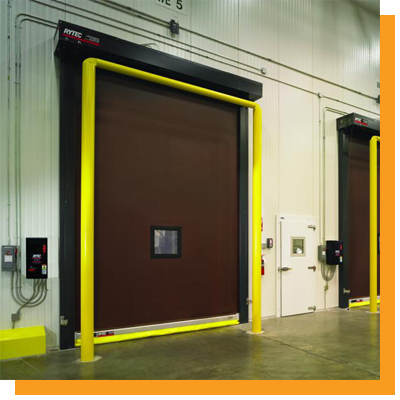 ---
View some of our High Speed door offerings: